Advisory for Mac Users: Install the Zoom Outlook Add-in on Your Mac Computer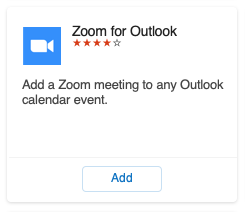 If you currently use the Zoom for Outlook plugin for Mac, we encourage you to install the Zoom for Outlook add-in. Please be advised that as of May 2021 support for Outlook's Zoom plugin for Mac is no longer be supported. The Zoom for Outlook add-in is designed to manage scheduling within the Outlook web and desktop apps. The add-in allows you to easily add a Zoom meeting to any new or existing calendar event.
For reference, below you'll see a screengrab of how the previous Zoom plugin looks within Outlook. If you have this Zoom plugin enabled, then you'll need to replace it with the Zoom for Outlook add-in. Click here for instructions on how to uninstall the previous Zoom plugin.
Previous Zoom Plugin:

---
Quick Links
If you have any questions or if you need technical support, please contact the UMIT Service Desk at: (305) 284-6565 or help@miami.edu.
Thank you.