Create an Inclusive Feedback Experience: Digital Annotation Tools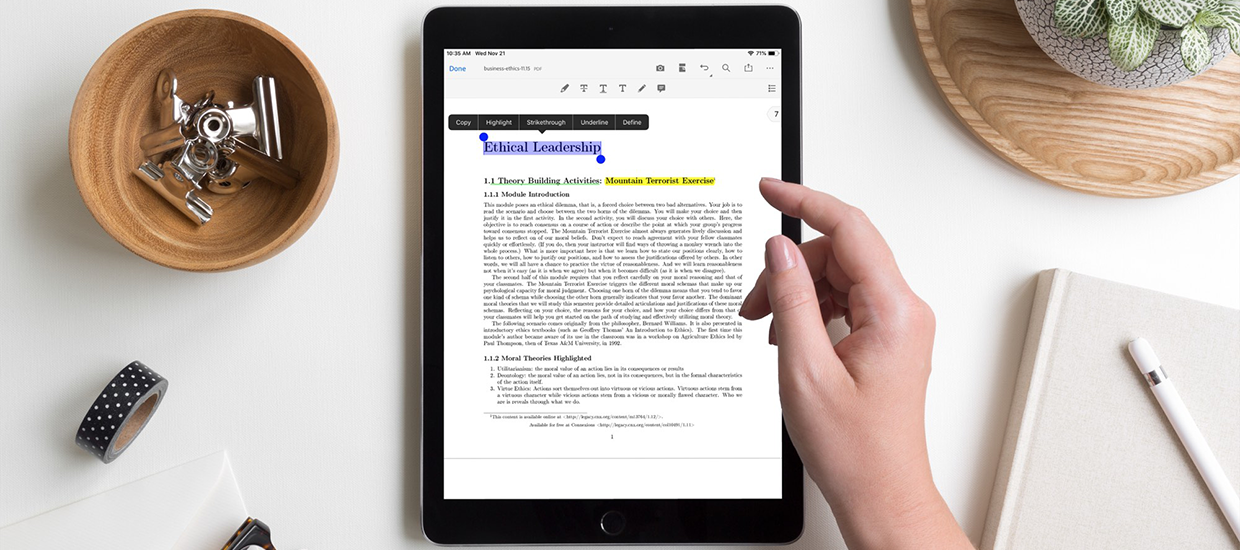 Digital Annotation Tools enable faculty to review electronic student submissions, directly provide personalized and detailed feedback on the assignment, and support a paperless classroom—ultimately, inviting students to have an active role within the feedback process.
These tools allow for faster turnaround time, making them a more efficient communication alternative for the instructor and student to interact on the spot and join in on the conversation. By accessing the option of connecting centrally and providing private comments in the moment (that students can access and revisit at any time,) the online classroom becomes more tangible.
Annotation tools—like Blackboard Inline Grading, Adobe Acrobat (for mobile/desktop), Google Drive, and iAnnotate (for mobile)—allow faculty to highlight text, add comments, draw notes, and attach additional resources directly within a browser, mobile, or desktop application. All tools, except iAnnotate, are available through the University of Miami.
For instructors to begin providing annotated feedback they will first need to create a preferred online location for students to submit their assignment, such as a Blackboard Assignment, Google Drive, or another cloud-based platform. Once assignments are collected (or downloaded,) Digital Annotation Tools facilitate different feedback approaches; provided online or uploaded to a grading page for review.
Compare the Tools
This comparison of features table provides an overview to what each digital annotation tool offers.
Get Started
To learn more—including usage cases at the U, the implications for teaching and learning, and available resources to get started—review UM's Digital Annotation Tool's summary. This in-depth summary was created for our UM community through a successful collaboration with UMIT Academic Technologies and UM faculty.
For more information or to bring Digital Annotation Tools into your learning environment, please connect with the team by emailing Academic Technologies at: academictechnologies@miami.edu.
Explore Additional Technologies
Visit the Technology Summaries page to further learn about beneficial technological supplements for faculty, staff, and students.