Outlook Tips: How to Ensure You're Sending Messages to a University of Miami Email Address
To ensure the correct email address is used for all University-related business, we ask that you pay special attention to the email address displayed when sending messages to faculty, staff, and students. You can quickly verify that you're sending to the correct email address via Outlook by clicking on the person's name when it auto-completes in the "To:" field, and the email address being used will be displayed.
It has come to our attention that when an individual has multiple legitimate email addresses in the University directory with the same name, one ending in @med.miami.edu and the other ending in @jhsmiami.org, the sender can inadvertently select the @jhsmiami.org address which sends the message to the Jackson email system. Unfortunately, many faculty members/practicing physicians do not check their Jackson email and will not receive potentially important messages. In cases like these, please send University-related messages to their @med.miami.edu address.
Another reason you may see multiple email addresses for the same person is that Outlook remembers up to 1,000 email addresses you've used in the past and saves them in your "Contacts and Recent Addresses" or "Recent People" list. This auto-complete feature can save you a lot of typing, but it can also cause you to accidentally send a message to the wrong email address. The good news is that it's easy to clear these contacts from Outlook's auto-complete list!
If you spot an email address in your recent list that shouldn't be there, e.g., a personal @gmail.com address you no longer want to use, you can remove it by simply typing the person's name in the "To:" line and clicking the "X" in the pop-up. This ability to remove contacts is available for Outlook on the web, as well as the Outlook desktop client for Mac and PC, and only works for email addresses which are listed under "Contacts and Recent Addresses" or "Recent People," not for multiple legitimate email addresses in the University directory, as noted in the paragraph above. For reference, see the screengrabs below:
Outlook on the web (email.miami.edu):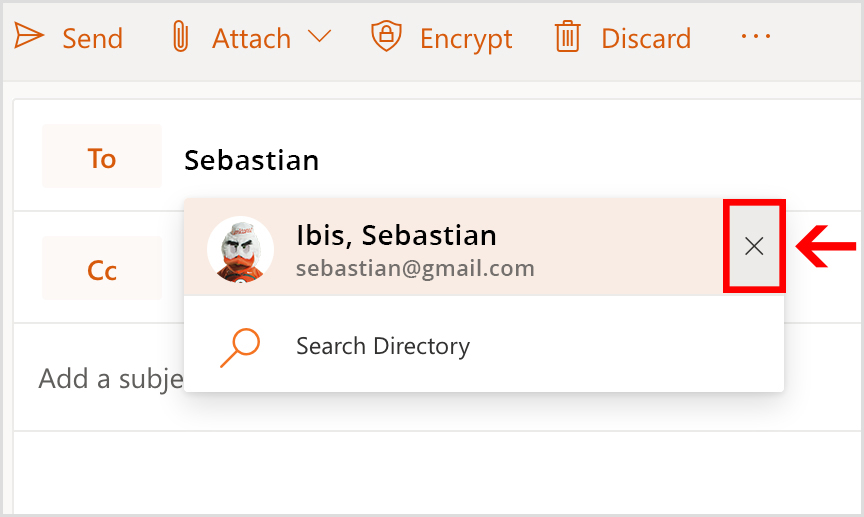 Outlook desktop client on PC:

Outlook desktop client on Mac: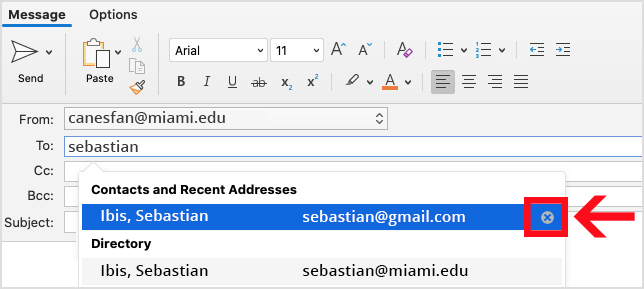 Note: If you use multiple devices, you will need to remove the recent contact(s) from each device.
If you have any questions or if you need technical support, please contact the UMIT Service Desk at (305) 284-6565 or help@miami.edu.
Thank you.