Archive: October 2016
New and Improved Features for Office 365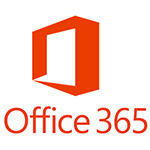 Learn more about Microsoft Office 365 features that are being added this year, and get links to additional content to help you take advantage of these improvements and additions.
---
Updates: October 2016
---
Skype for Business Announces New Mac Client and New Mobile Sharing Experiences
October 27, 2016 - Today, we are pleased to announce that Skype for Business Mac is now publicly available for download. The Mac client offers edge-to-edge video and full immersive content sharing and viewing. The result is a great first class experience for Mac users.
---
Watch Microsoft's Surface Event in 10 Minutes
October 26, 2016 - Microsoft had no shortage of announcements at its big Surface event. The Surface Studio all-in-one was undoubtedly the centerpiece, but the tech pioneer also unveiled a supercharged Surface Book, low-cost third-party VR headsets, the art-oriented Surface Dial accessory and a major Windows 10 update that's focused on creators. It's a lot to digest, we know. Thankfully, you don't have to spend ages reading our liveblog to see what happened. We've recapped the choicest parts of the announcement in a 10-minute video that you can watch right here -- you just have to sit back and enjoy.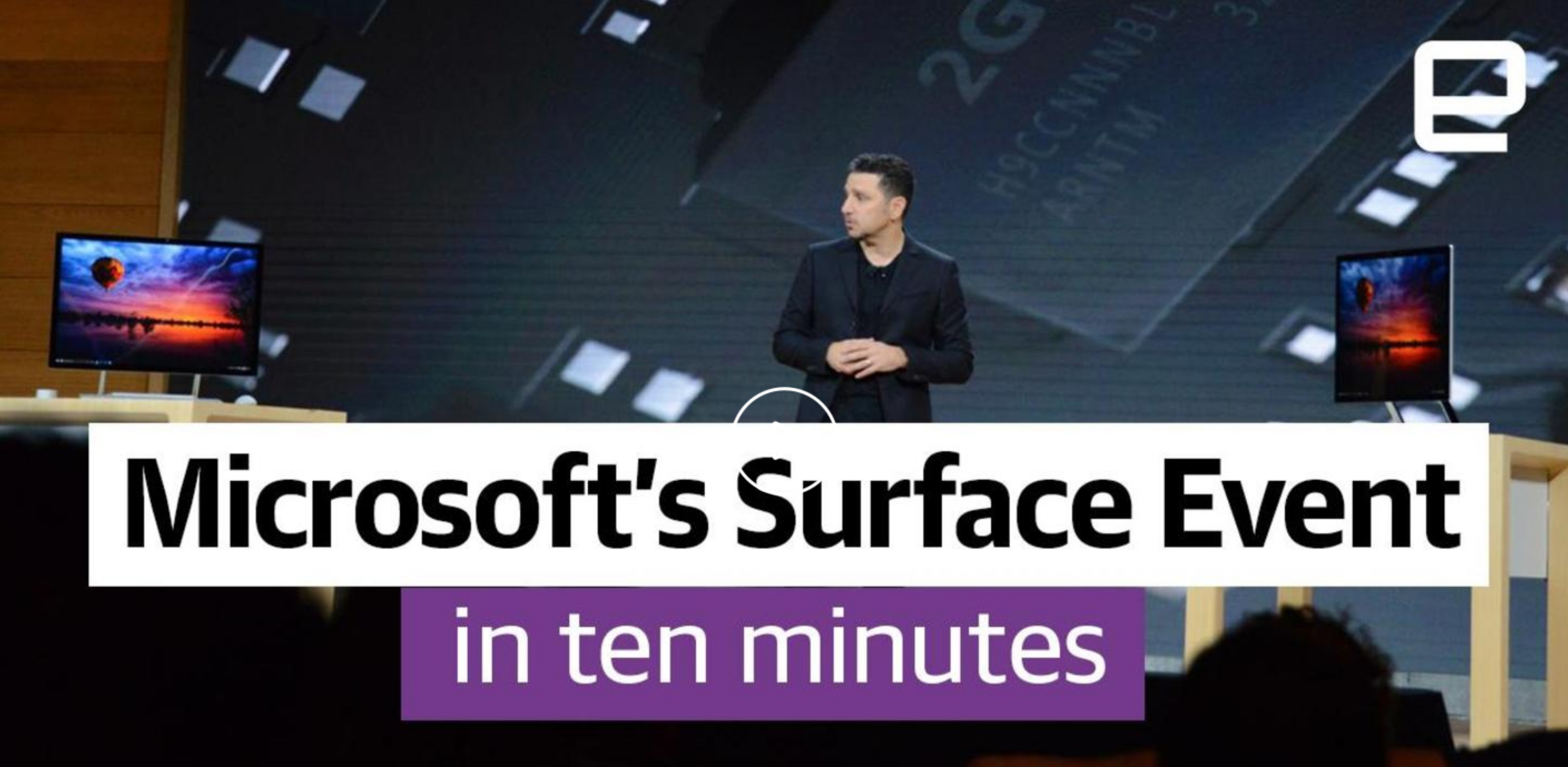 ---
Now You Can Create and Share Office Documents While Collaborating in Yammer
October 11, 2016 - Yammer connects people and teams across your organization. To be truly productive, team members need to be connected not only to each other but also to the tools they need the most. Last week, with Office 365 Groups integration, we announced that every team working in Yammer now has integrated access to a SharePoint Team site and Document library, a OneNote notebook and Planner for task management. Today, we are connecting teams in Yammer to another core productivity need: the ability to collaborate around Office documents.
With today's announcement, users can now create Office documents such as Word, PowerPoint and Excel and co-author them with their team from within a Yammer group. Additionally, users can easily browse their SharePoint and OneDrive libraries to share files and start discussions with their teams on Yammer. This focus on enabling employees to get work done through deeper integration into the Office 365 suite has led to the fastest annual user growth in Yammer's history. These new features start rolling out today and will be available to all Yammer users in the coming weeks.
Create Documents Directly from Yammer
Work is more than just conversations. Every day we collaborate with co-workers to create documents in Word, PowerPoint and Excel. Now, create these Office documents without having to leave Yammer. With the full functionality of Office Online, you can co-author documents with colleagues, view version history and mark important files as official. Because you're in Yammer, you can also easily share and discuss the document with your team from within your group in Yammer.
 ­
Share Files from SharePoint and OneDrive
To help teams leverage the power of SharePoint and OneDrive for file storage and management, we made it much easier to share and discuss these files with your team on Yammer. The improved file picker lets you browse and share files from your Office 365 SharePoint Document Libraries or personal OneDrive for Business. This means you can take advantage of SharePoint and OneDrive's content management capabilities directly from within Yammer.
---
Did You Miss the Microsoft Ignite Conference This Year? Don't Worry, On Demand Sessions Are Now Available.
October 5, 2016 - Microsoft Ignite is the premiere Microsoft annual event where customers, vendors and inquirers come to hear what's going on at Microsoft. There are hundreds of breakout sessions where you hear from Microsoft specialists on what is currently being offered and road maps of where the products are going. If you are interested in seeing some of these sessions, many were recorded and are available on demand here. The event also features vendor expo areas where you can meet with Microsoft and Microsoft partners. You get to see and play with the latest products and services.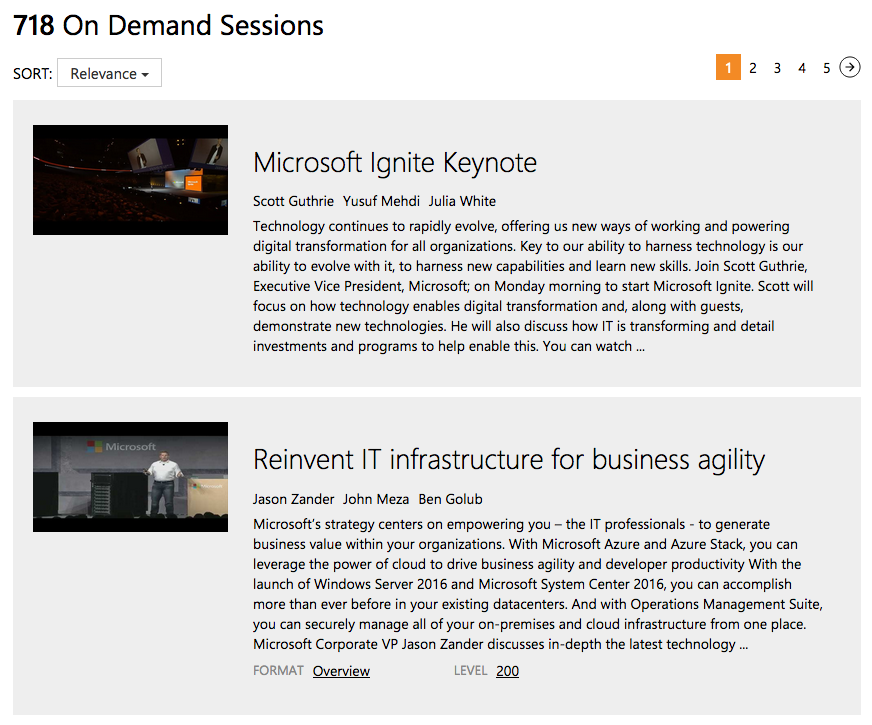 ---
Introducing the New Office 365 App Launcher
October 1, 2016 - As we continue to expand the great set of online productivity tools available to Office 365 users, we are committed to improving the experience that ties these services together. Today, we're announcing a new version of the Office 365 App Launcher, which will provide improved discoverability to new and recently used apps, additional customization options and search across all the services and applications you use in the Microsoft Cloud. With one in seven people on the planet using Office, it's important for us that this new experience feel familiar while also improving access to mission critical applications from across your organization.
The Office 365 App Launcher has always provided a simple, consistent experience to surface applications when and where you need them. Now, we're taking this one step further and helping bring the apps you use most front and center.
The new tabbed layout allows you to pin and organize tiles in a "HOME" section to provide fast, familiar access to your favorite apps from your Office 365 subscription, the Office Store, Azure apps, SharePoint apps, Line of Business apps and even custom tiles added by organization administrators.
Your company's recently added apps also get their own "NEW" section, with badge notifications to let you know when a new app is available. We've also brought the "ALL" apps page directly into the App Launcher experience to give you quick access to your entire catalog of applications and search from anywhere within Office 365.