Archive: June 2016
New and Improved Features for Office 365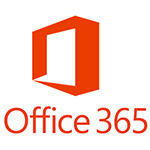 Learn more about Microsoft Office 365 features that are being added this year, and get links to additional content to help you take advantage of these improvements and additions.
---
Updates: June 2016
---
Sway
June 28, 2016 -  Three New Sway Capabilities for Office 365 Subscribers
In the 10 months since Sway's general availability, we've seen great interest in our digital storytelling app, with millions of Sways created to date! We make sure to listen to the Sway community and continually add relevant and enjoyable experiences for you. As we work toward this goal, we are excited to release three new features for Office 365 consumer, work and education subscribers based on feedback we've heard from you. These features are now available in Sway on the web, and they will roll out to the Sway app for Windows 10 in the coming months.
Add Passwords to Sways
Previously, Office 365 work and education customers have been able to limit sharing of Sways at the organizational level, so that only people in your company or school can view your creations. Starting today, all Office 365 subscribers can add an extra layer of privacy by setting passwords for your Sways. This ensures that only people with the password can view your work presentations, school reports or travel journals.
Enjoy Enhanced Content Limits
We received numerous requests to be able to put more text, photos and other content in your Sways. And our own data shows us that our Office 365 subscribers typically create longer and more robust Sways with higher amounts of videos, tweets and other embedded content. So we've worked to increase the content limits for Office 365 subscribers so you can create longer-form works with more multimedia to convey a richer story in the boardroom, the classroom or your home.
Remove the Informational Footer in Sway
Finally, we're enabling all Office 365 subscribers to remove the informational footer at the end of your Sway to help you achieve a more polished look. You can now tap the Share icon and uncheck the Show Sway branding in this Sway checkbox to create a more professional look for your creations.
The Sway team is excited to provide ongoing value to our Office 365 subscribers and will continue adding new, exclusive Sway features over time. As always, we value your feedback and ideas, so please keep them coming in our Sway UserVoice.
---
Travel with Office 365
June 24, 2016 - Travel can be stressful, even when you're planning to go somewhere for fun. Staying on top of travel plans and package deliveries can become time-consuming and a hassle.

First, Outlook began automatically adding events from your email to your calendar. Now, we have more new experiences to help you stay on top of your travel plans and package deliveries, including the ability to:
Verify your travel reservations and package delivery details with ease using simplified summary cards in your inbox and calendar.
Check in for flights, change hotel and rental car reservations or track packages at the touch of a button.
Stay on top of your flights with reliable reminders.
These features are rolling out to Outlook for Mac and Outlook on the web today and will soon be coming to Windows, iOS and Android, as well as the Windows 10 Mail and Calendar apps.




Smarter Email, Simpler Reservations

Travel itinerary emails are complicated to read because they contain so much more than just your reservation. It especially gets complicated when the itinerary includes multiple flights, hotel reservations and rental car confirmations. Outlook now displays the most important information from travel itineraries and puts them in an easily readable summary on top of your email.


Quick Actions at Your Fingertips (Or a Click of Your Mouse)

In addition to helping you see your travel plans at a glance, the summary cards provide you with quick actions for the key things you need to do. No more hunting for the check-in link in a long confirmation email or trying to find where to change your hotel reservation. It's now just a tap or click away in the summary card above the email to go directly to the provider's specific web page for the action.

All Your Travel Info, Automatically Added to Your Calendar

In addition to smarter email experiences, Outlook automatically adds travel events to your calendar with the same summary cards for each step of your trip detected in the reservations. The events include everything you need to know, such as date, time, locations, confirmation number and a few other key pieces of info you might need at your fingertips. You can go to the original booking email with a single click from the calendar event in case you need to look up more details.

Travel updates and cancellations happen — for good or not so good reasons. Either way, Outlook automatically keeps the events on your calendar updated with new information from your travel provider.




Helpful Check-In Reminders to Keep You on Time

Timing is everything and it can mean the difference between getting the seat you want or settling for one you really don't want. Not all airlines are great at notifying and reminding you when it's time to check in for your flight. Outlook will always send you a reminder email exactly 24 hours in advance with a link to the airline's check-in experience. What's more, you can set an Uber ride reminder so you always get to airport on time.

And three hours before your flight takes off, we'll remind you again, so you can plan to be at the airport on time.

And Never Miss Package Deliveries!

We know travel is not the only thing you need to keep track of, so we are also adding package tracking experiences. When you receive a shipping confirmation email, we'll summarize the most important info in a card above the email and automatically add an event to your calendar (for non-commercial accounts) to provide quick actions.
---
New iOS SharePoint Mobile App
June 21, 2016 - Install the SharePoint mobile app for iOS now and take your intranet with you — your intranet in your pocket. Stay connected to important content, sites, portals and people from across your intranet while on the go.

The SharePoint Mobile App

The new SharePoint mobile app helps you keep your work moving forward by providing quick access to your team sites, organization portals and resources, and even a view into what the people you work with are working on. And this new app is infused with the intelligence of the Microsoft Graph, which applies machine learning to activity in Office 365 to connect you to the relevant documents and people around you. The SharePoint mobile app works with SharePoint Online in Office 365, SharePoint Server (2013 and 2016) on-premises and your hybrid environment. Once you launch the app on your iPhone, you'll be prompted to sign in with your SharePoint credentials. The SharePoint mobile app lets you easily switch between accounts.




The Sites tab takes you to a list of the sites you visit frequently and sites you're following. Click on a site to see recent activity, recent files and the site's assets (documents, lists, subsites, pages and more). You can also share the site. When you click to a team site, you immediately see how the SharePoint mobile app natively renders the site elements quickly and beautifully.

The SharePoint mobile app also links to other Office apps. For example, when you click an Office document in the Recent files pivot, it will take you directly into the corresponding Office mobile app. Similarly, when you access a SharePoint document library within a team site, you will be taken into the OneDrive mobile app for iOS to view, share, discover and manage files stored across Office 365.

The Links tab takes you to sites and portals programmed for everyone in your company to see. These are curated by your SharePoint admin(s) from the SharePoint home in Office 365. And if you have invested in responsive, mobile-designed portals, they will shine through in the app. Microsoft, too, is investing in responsive design as a top priority to ensure all new experiences (like the SharePoint home in Office 365, Microsoft Delve and Office 365 Video) are mobile and responsive by default.

The People tab gives you visibility into what the people you work with are working on. Find and browse colleagues in your network. Tap on an individual to see their contact card and discover what they are working on and who they are working with based on intelligence powered by Office 365.

Search – The SharePoint mobile app provides search throughout with clean results—filtered by sites, files and people. When you perform a search in the SharePoint mobile app, you are connecting through full enterprise search, so you can find content and people from across your intranet, SharePoint team sites, company portals and the OneDrive for Business folders you have access to, including content recommendations powered by the Microsoft Graph.