Archive: May/June 2017
New and Improved Features for Office 365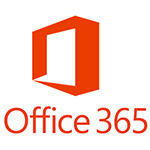 Learn more about Microsoft Office 365 features that are being added this year, and get links to additional content to help you take advantage of these improvements and additions.
---
Updates: May-June 2017
---
New Feature: Skype for Business Integration in Yammer
June 30, 2017 - Beginning July 2017, Yammer users with a Skype for Business subscription will start seeing the Skype for Business icon on the Office 365 navigation bar in Yammer.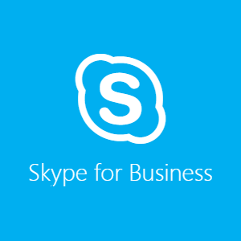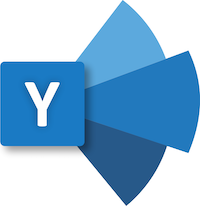 How does it affect me?

Yammer users with Skype for Business subscription can now launch and perform some basic Skype for Business tasks right from their Office 365 navigation bar in Yammer.

This feature will initially be available for first release customers and will start rolling out to a subset of production customers starting mid-July, with the majority of customers receiving this update by the end of July.

What do I need to do to prepare for this change?

This feature will be on by default. While no action is required, we have provided rich documentation which may be useful to prepare your organization for getting the most out of this new feature. Please click Additional Information to learn more.
---
SharePoint Communication Sites Begin Rollout to Office 365 Customers
June 27, 2017 - During last month's SharePoint Virtual Summit, we unveiled SharePoint communication sites — beautiful, dynamic sites that let you reach a broad internal audience, and that look great on the web, in the SharePoint mobile app, on PC and on Mac. Today, we're excited to announce that communication sites are now rolling out to Office 365 First Release customers, followed by full worldwide rollout to Office 365 customers in the coming months.
Create a Beautiful Communication Site in Seconds
Communication sites are perfect for internal cross-company campaigns, weekly and monthly reports or status updates, product launches, events and more. To help you jumpstart getting your message out fast, communication sites provide configurable templates for the sites and pages within. When you click Create site from the SharePoint home in Office 365, you have a choice of three initial site designs:
Topic—Select the Topic design when you have a lot of information to share, such as news, events and other content.
Showcase—Use the Showcase design to feature a product, team or event using photos or images.
Blank—Start with a blank site and make your design come to life quickly and easily.
Communication site designs (from left to right): Topic, Showcase and Blank.
And it is easy to tell your story. Once your new site is created, simply drag-and-drop to reorganize web parts on the page to bring your use cases and scenarios to life. News and pages allow for multi-column layouts to represent your message in a meaningful, intuitive fashion.
Learn how to create a communication site in Office 365, add a page and work with column layouts.
Share Your Plans and Updates in Engaging, Interactive Ways
Communication sites allow people to create and share recurring updates beyond email. When you create a page on a communication site, you can embed documents and video, and dynamically pull in real-time data from across Office 365, including documents from SharePoint, Power BI reports, Microsoft Stream videos and Yammer discussions. The resulting page is a rich and dynamic communication. And the page persists on the site, so people can refer to it easily, even as the membership of your team changes, so new members can more easily get up to speed.
The new capabilities for the rich section layouts and new web parts can be utilized on SharePoint team sites as well.
---
Microsoft Stream Now Available Worldwide — New Intelligent Features Take Enterprise Video to New Heights
June 20, 2017 - Video has become an increasingly important medium in both the consumer and business realms. In the workplace, video is a key way to share information, educate and train employees, drive engagement and build culture.
Last year, we released a preview of Microsoft Stream, the intelligent enterprise video service that makes it easy for people inside any organization to securely upload, share, manage and view videos. Today, we're excited to announce that Microsoft Stream is now generally available as a standalone service and is rolling out to Office 365 Enterprise customers in 181 markets and 44 languages. We're also announcing new intelligent features that take productivity and user engagement to new heights.
A Single Destination for Video — Unlimited Personalized Experiences
Microsoft Stream is a single destination for video management, with built-in intelligence, deep integration across Office 365 and the IT management and security capabilities that businesses of all sizes require. It gives individuals a destination to contribute, search and discover all their company videos. It is also now the cross-suite video service for Office 365 in the enterprise, making it seamless for people to share videos inside Office 365 applications like SharePoint, Microsoft Teams and Yammer. Microsoft Stream is also integrated with Office 365 Groups, which means every group has a designated channel—making it even easier to manage content across teams.
Here's a look at how intelligence is infused throughout the Microsoft Stream experience:
Speech-to-text transcribed audio—Transcribed audio becomes searchable text. Simply type in descriptive keywords to jump to any point in a video they are spoken.
Face detection—With face detection, viewers can see where each person in the video is shown throughout the video. A clickable timeline indicates every place they appear.
Linked timecodes—Timecodes are displayed within the comments section and are linked to the text transcripts or table of contents, so you can jump to a specific point in the video.
Connected and Secure Video — Anywhere, Anytime
Microsoft Stream utilizes built-in, industry leading encryption and authenticated access for video to ensure our customers are sharing content only with the intended audiences. Intuitive security features that utilize existing organizational identity through Azure Active Directory and Office 365 Groups make security management simple. Additionally, administrators can add custom guidelines or require employees to optionally accept terms before they can begin to upload videos. Videos provide a seamless and secure viewing experience across devices and screens and work wherever you are—at home or in the office. Microsoft Stream videos are also more accessible, with features like closed captioning, screen readers, keyboard navigation and high contrast.
Modern Video Service Reimagined
Microsoft Stream builds on the learnings from Office 365 Video to bring intelligence and deeper integration into Office 365 and beyond. To learn more about the Office 365 Video transition to Microsoft Stream, visit our website.
Start Using Microsoft Stream Today
If you are a current Office 365 customer, you can find Microsoft Stream in the Office app launcher or visit the Microsoft Stream website to sign in. If you don't have Office 365, try a Microsoft Stream standalone plan or start your free trial right away.
To learn more about Microsoft Stream, join our Ask Us Anything session on the Microsoft Tech Community, June 29, 2017 at 9 a.m. PDT.
---
Outlook 2016 for Mac is Adding Your Most Requested Features
June 19, 2017 - Outlook for Mac is adding several highly requested features for Office 365 customers, including the ability to send an email at the time of your choice and request delivery notifications and read receipts. These additions deliver on four of our top 10 requested features, and are designed to help you get more done quickly and stay in control of the day ahead.
A big part of our prioritization of new features and enhancements comes from the votes and feedback we receive from you at our Outlook UserVoice site, and the input we get from our Office Insiders. We thank you all for your feedback and are excited to hear what you think of our new additions!
Here's a look at what's new.
Send Your Emails When You Want
The best time to write an email and the best time to send an email may not always align. With our new Send Later feature, you can write an email now and schedule it to be sent automatically at the perfect time. Once you are done drafting your email, click the drop-down next to Send and then select Send Later. Choose the date and time to send the email and the message is saved to your Drafts folder. When the scheduled time comes, the email is automatically sent—you don't even need to have Outlook or your computer open!
This feature is available to Office Insider Fast users today and coming to Office 365 subscribers in July. For more details, see Can I delay or schedule the delivery of email messages in Outlook 2016 for Mac?
Use Read and Delivery Receipts to Track Your Emails
Sometimes you need to be notified that an important email has been delivered to and read by your recipient. Outlook for Mac now supports both read and delivery receipts. A delivery receipt confirms delivery of your email message to the recipient's mailbox, but not that the recipient has seen it or read it. A read receipt confirms that your message was opened.
In Outlook for Mac, the message recipient can decline to send read receipts. For more details, see Request a read receipt or delivery notification.
Spend Less Time Writing Emails
Sending the same email over and over again? Email templates are great for sending messages that include information that infrequently changes from message to message. Compose and save a message as a template and then reuse it when you want it. New information can be added before the template is sent as an email message. For more details, see Can I create email templates in Outlook 2016 for Mac?
Stay on Top of Your Day by Creating Calendar Events and Tasks from Emails
Emails contain the important information you need to get things done throughout the day. Often, however, those tasks need to be scheduled as part of your day to get completed on time. You can now drag and drop emails directly to your calendar to reserve that time. The subject of the email becomes the calendar subject, and the body of the email goes in the notes field.
For those of you who are task users, you can do the same thing. Drag the email to your task view to create new items.
Improving the Account Setup Experience
We've simplified the Add Account experience in Outlook for Mac. Previously, you needed to know details about what type of account you have (e.g., Office 365 or Exchange, IMAP or POP). Now you can simply enter your email address and Outlook detects your account settings and guides you through the process. And if you've signed in to other Office apps before launching Outlook for the first time, you will be asked if you want to add that account automatically. For more details, see Set up Outlook on your Mac.
How Do I Get All These New Improvements?
The Send Later feature is available to Office Insider Fast users today on version 15.36 (170606) and will be available to all Office 365 subscribers in July. The Request a Delivery and Read receipts, email templates, and creating calendar events and tasks from emails additions are available today to all Office 365 subscribers on version 15.35 (170610). The improved account setup experience is available to all Outlook Mac users on version 15.34 (170515).
Let us know what you think of our additions! If you have other ideas for what would make Outlook for Mac even better for you, let us know on our Outlook UserVoice site.
---
Improving People in Outlook for iOS and Android
June 5, 2017 - Outlook for iOS and Android is on a mission to help you accomplish more with your email and calendar while on the go. With our latest release, we're addressing one of our most highly requested features with improvements to our People experience.
You will now have the ability to add and edit contacts right from Outlook on iOS, coming soon on Android. We've also completely redesigned the contact card to show more details — including latest conversations and shared files — and enabled easier calling and messaging with your contacts.
Here's a deeper look at what's new.
Add or Edit Your Important Contacts While on the Go
With our latest update, you can now add and edit contacts for Outlook.com and Office 365 accounts (support for Google contacts coming soon).
To create a new contact in Outlook, simply go to the People tab and tap the + sign. You can also add a new contact directly from a message or event by tapping the name of a person and then tapping Add Contact. Lastly, you can also use the search bar in the People tab to find and add contacts from your company directory.
Once you've added a contact, you can edit their information by opening the contact and tapping the Edit button. Any changes made in Outlook for iOS will be synced and available across all versions of Outlook.
View Details About Your Contacts at a Glance
The contact card has also been redesigned to put your contacts' key details front and center. Tap on any name in your messages or events to access phone numbers, email addresses and other details, like Skype IDs, along with your contact's picture. Tapping a phone number will allow you to choose between calling, messaging or FaceTiming your contact.
The new contact card now also displays your recent conversations, shared attachments and any upcoming meetings you have with that person.
Save Contacts to Your Device
While you can fully manage your contacts in Outlook, you can also save your contacts to the default Contacts app on iOS and Android. This allows you to easily see the name of a contact when you receive a call or text message from them, and view all of their contact information directly in the built-in Contacts app.
Due to the underlying capabilities of iOS and Android, Outlook provides a one-way push of contact information from Outlook to your phone. Newly added contacts and changes made in Outlook will sync to your built-in Contacts app. However, edits made in the contacts app will not sync back to Outlook or your email service.
To enable Caller ID with your Outlook contacts, navigate to your account within Settings and tap Save Contacts. If you'd like to remove the contacts at a later time, you can toggle the switch in Outlook and they will be removed from your address book.
---
Updated Feature: SharePoint News
June 1, 2017 - We're updating SharePoint News! You'll begin seeing this new feature in the coming days.

How does this affect me?
There'll be a single News web part available in SharePoint modern authoring toolbox. The web part will support 3 layouts, and you'll be able to switch the layout on any page (including Team homepage). We'll begin gradually rolling this out in the following days, and the rollout will be completed by the end of June.
What do I need to do to prepare for this change?
There is nothing you need to do to prepare for this change. Please click Additional Information to learn more.
---
Immersive Reader Comes to Outlook on the Web and the OneNote for Windows 10 App, and Expands its Global Reach
May 31, 2017 - In February, we announced the availability of the Microsoft Learning Tools Immersive Reader on Word Online and OneNote Online. As a result of customer demand, we are pleased to announce that Immersive Reader is now available for Outlook.com, Outlook on the web and the OneNote Windows 10 app. Immersive Reader includes a view that utilizes techniques proven to help people read more effectively, such as:
Read Aloud—Reads text out loud with simultaneous highlighting that improves decoding, fluency and comprehension while sustaining the reader's focus and attention.
Spacing—Optimizes font spacing in a narrow column view to improve reading fluency for users with visual crowding issues.
Syllables—Shows the breaks between syllables to enhance word recognition and decoding.
Parts of Speech—Supports writing instruction and grammar comprehension by identifying verbs, nouns and adjectives.
In addition to the Immersive Reader rollout across new apps and platforms, we are also adding new language and geographic availability for the Read Aloud, Syllables and Parts of Speech features. This expanded language support—coming to Word Online, OneNote Online, Outlook on the web and the OneNote Windows 10 app—will allow more customers across the world to experience the benefits of both the Learning Tools and the Immersive Reader. For the OneNote Desktop Learning Tools add-in, we are launching Japanese dictation, plus bug fixes and other small improvements. See all of the details at the Learning Tools language support page.
And finally, we are excited to announce the availability of Try it out—an updated and enhanced capability on the recently redesigned Microsoft Learning Tools landing page. Try it out allows anyone to quickly and easily try out the Immersive Reader, without needing an Office 365 ID or a Microsoft account. We hope these announcements enable more people to read in a way that works best for them, and we look forward to hearing impactful stories from more of you, such as this story about empowering students to read in a new way.
Immersive Reader Brings Increased Accessibility to Outlook on the Web
In talking with customers, a common request we heard was to bring the same Immersive Reader capabilities of Word Online and OneNote Online to those accessing Outlook via the web. Starting today, the Immersive Reader will begin rolling out to Outlook.com and Outlook on the web worldwide.
There are several ways to launch the Immersive Reader in Outlook on the web or Outlook.com:
On any received message, select the Reply all drop-down and then select Show in immersive reader.
Right-click any message and select Show in immersive reader.
From the main message view, click the … and select Show in immersive reader.
The new Immersive Reader for Outlook on the web and Outlook.com will be available in many languages and countries. Visit the Learning Tools language support page to learn more.
Immersive Reader Comes to the OneNote Windows 10 App
Since the release of Learning Tools for OneNote Desktop, many customers have asked for these same capabilities in our OneNote Windows 10 app. With the June OneNote Windows 10 app update, the Immersive Reader will be available to all customers via the View menu and will be pre-installed.
The new Immersive Reader in OneNote Windows 10 will be available in many languages and countries. Visit the Learning Tools language support page to learn more.
---
Upcoming Changes to the Free Power BI Service and Power BI Extended Pro Trials

May 30, 2017 - Starting June 1, we will improve the free Power BI service to have the same functionality as Power BI Pro, but will restrict sharing and collaboration features to only Power BI Pro users. Users of the free service will benefit from access to all data sources, higher workspace storage limits, and higher refresh and streaming rates.
How does this affect me?
Beginning June 1, sharing and collaboration features will no longer be available in the free Power BI service, but the following features will now be added to the free Power BI service:
Access to all data sources
Higher workspace storage limits
Higher refresh and streaming rates
For existing users of the free service who have been active within the past year, we're offering a free extended trial of Power BI Pro that ends May 31, 2018. Eligible users are those who have used the free Power BI service between May 3, 2016 and May 2, 2017. The offer will be delivered through a message that appears in the Power BI service the first time an eligible user logs in, on or after June 1, 2017.
What do I need to do to prepare for this change?
You may want to communicate to your users and prepare them for this Extended Pro Trial offer. Please click Additional Information to learn about the eligibility criteria, user experience and the terms and conditions for this Extended Pro Trial.
---
Updated Feature: New Experience for Excel Survey
May 25, 2017 - Excel Survey will be powered by Microsoft Forms and will be renamed "Forms for Excel". This update comes with a modern experience to make it simple and easy to collect information into Excel. It can collect information from anyone in the world, or only users in the same organization. It can be used without changing the organization's sharing settings in OneDrive. It also includes new features such as response time, responder's name, image, videos, themes, and branching logic.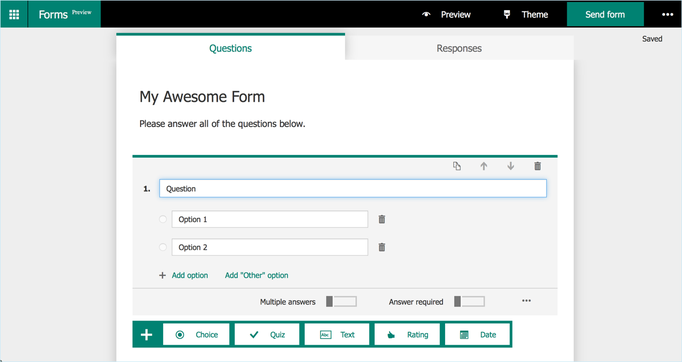 How does this affect me?

OneDrive for Business users will see "Forms for Excel" in the "New" menu. It will not depend on "External sharing" settings in OneDrive. Instead, Office 365 admins can turn their Microsoft Forms licenses on or off for their users.

All existing Excel surveys will continue to work. "Forms for Excel" has been available to Office 365 for Education First Release organizations since February. It will be gradually rolled out to all of Office 365 for Education starting in May, and will be completed in a few months.

What do I need to do to prepare for this change?

There is nothing you need to do to prepare for this change. Please click Additional Information to learn more.
---
Updated Portal and New Languages for Microsoft Forms
May 24, 2017 - Today, we're introducing several updates to Microsoft Forms, including improvements to the Forms portal, more languages and right-to-left reading support.
Microsoft Forms Portal Improvements
We are introducing significant improvements to the Forms portal page. With the new design, users will see a snapshot of each form, which includes the form title, background image and number of responses. The new search box, on the upper right corner, will help users quickly find a form either by its title or owner's name.
Updated Forms portal page.
Search in Forms portal page.
More Languages and Right-to-Left Reading Support
With this update, we're introducing 26 new languages to Forms—bringing the total to 68 languages. We are also enabling RTL (right-to-left) reading support for Hebrew and Arabic users, so users can create and respond to forms, as well as view forms results.
Forms RTL (right-to-left) reading support.
Create Your Own Form or Quiz
Educators can easily create a new form or quiz, add questions, customize settings, share their forms and check on the results. Just follow these simple steps:
Learn More About Using Forms
To learn more, see Copy a form, Delete a form, Share a form or quiz as a template and Share a form to collaborate. Many other top tasks and answers can be found on the What is Microsoft Forms? page, and on the Forms FAQs.
Also, read "Individualizing instruction with the new Microsoft Forms" by Laura Stanner, Microsoft Innovative Educator (MIE) Expert.
---
Success with Microsoft Teams Workshop - Tuesday, May 23, 2017
May 19, 2017 - Join us on Tuesday, May 23 in the RSMAS Auditorium for the Success with Microsoft Teams Workshop. Microsoft Teams is an entirely new experience that brings together people, conversations, and content — along with the tools that teams need — so they can easily collaborate to achieve more. This workshop is hands-on, so please bring your own laptop.
       
Ready to register? Select the session you'd like to attend, and click the Eventbrite link below to sign up: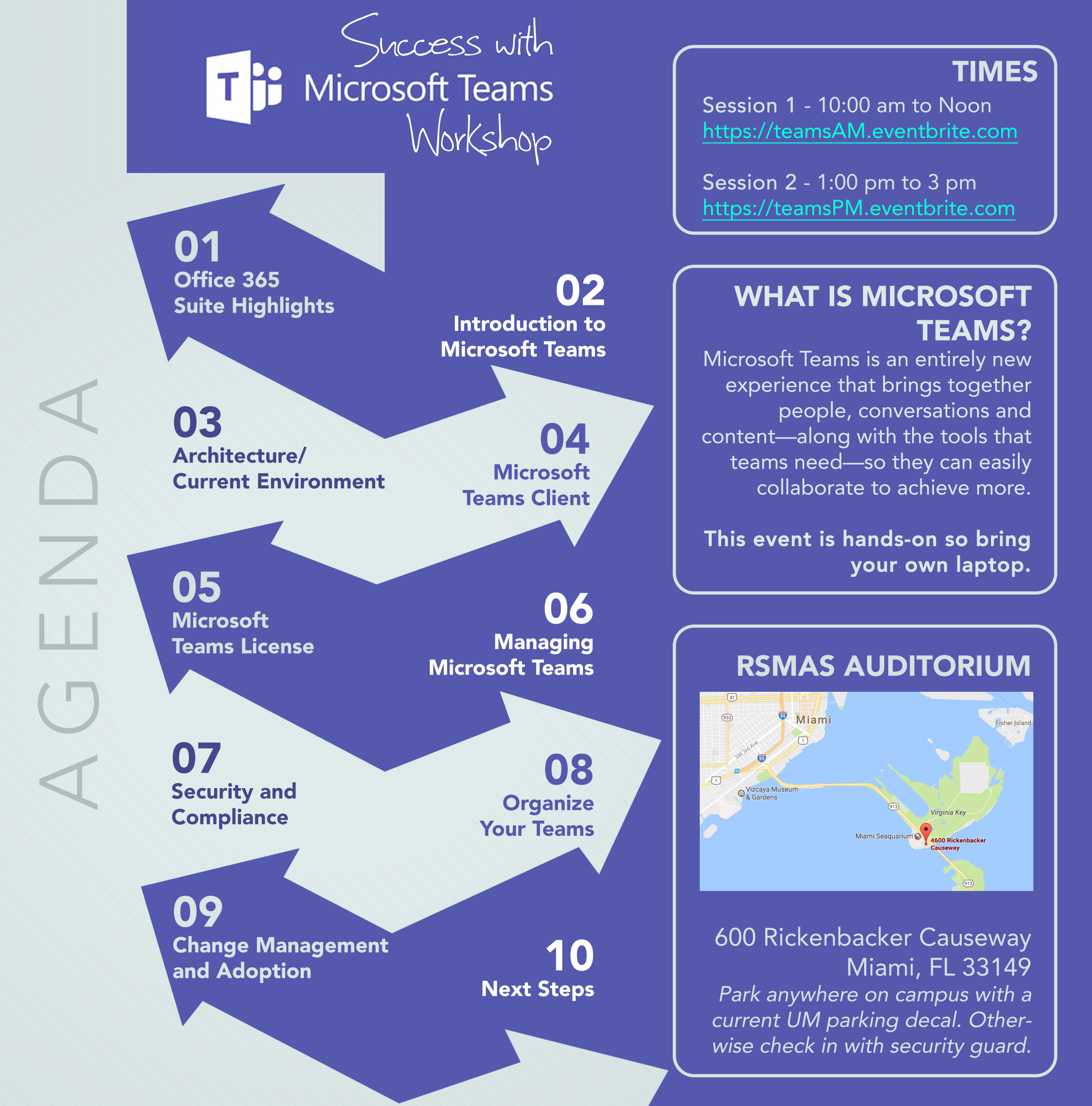 ---
Microsoft Stream General Availability
May 18, 2017 -  few months ago, we announced the preview of a new enterprise video service: Microsoft Stream. Stream will reach general availability in the next couple months; and is included in Office 365 subscriptions with Office 365 Video today, including Enterprise, Education, and Kiosk subscriptions.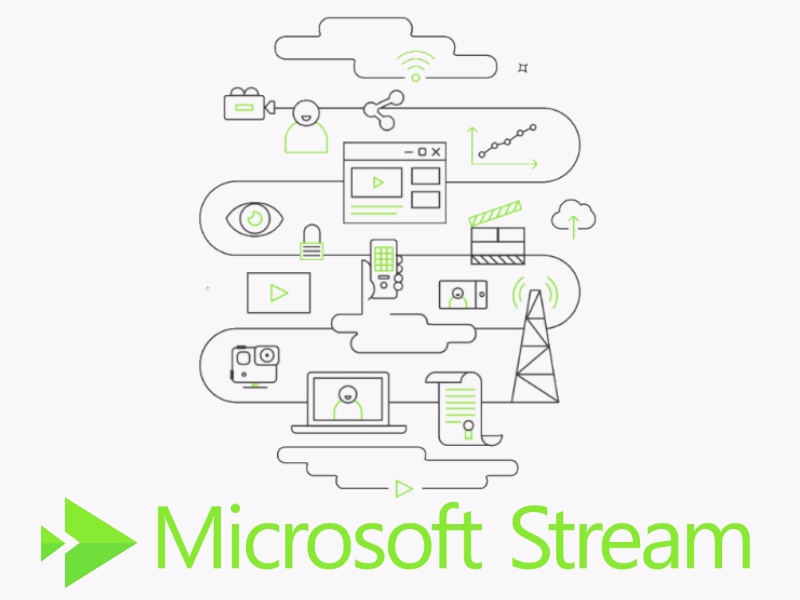 Stream is a new service that brings the power of intelligent enterprise video into a video hub, and enables knowledge sharing, communication, and connectivity in the secure enterprise environment. Stream is the successor to Office 365 Video; however the two services will co-exist during the transition period.

How does this affect me?

At general availability, Stream will be visible in the Office 365 app launcher, and be on-by-default at the tenant level.

There is no action required for existing Office 365 Video users at this time and there will be no change in Office 365 Video service when Stream reaches general availability. The transition from Office 365 Video to Stream will be a phased approach and we will continue to make improvements, maintain, and support Office 365 Video during this time. During the transition period, Office 365 Video and Stream will co-exist as separate services.

The transition from Office 365 Video to Stream will happen throughout 2017, giving customers time to acclimate to the new service. Microsoft will transition all videos, channels, and permissions from Office 365 Video into Stream. After the transition, existing Office 365 Video embed codes and links to videos will still work, redirecting to the same content in Stream.

What do I need to do to prepare for this change?

If you are considering enterprise video scenarios, but are not currently using Office 365 Video, we recommend getting started with Stream.

If you want more control on the availability of Stream in your organization, you will be able to manage user access and permissions to Stream through the Office 365 Admin Center or PowerShell starting after May 23, 2017. Additional details for permission management will be communicated in the Office 365 Video Tech Community and Microsoft Stream documentation pages.

If you are currently using Office 365 Video, there is no action for you at this time. We will continue to share updates on the transition plan details in the coming months and encourage you to visit our blog to learn more about Stream.

Please click Additional Information to learn more.