Archive: July 2016
New and Improved Features for Office 365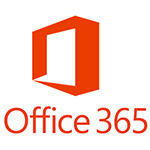 Learn more about Microsoft Office 365 features that are being added this year, and get links to additional content to help you take advantage of these improvements and additions.
---
Updates: July 2016
---
Learning Tools for OneNote Supports More Languages and Themes and is Now Generally Available
July 28, 2016 - Today, we are moving Learning Tools for OneNote out of preview (announced in January) and into general availability (English only). Learning Tools for OneNote was initially released as a customer preview back in January of 2016. The concept came from an internal Microsoft "Hackathon," where a group of people who were passionate about inclusively got together to design tools to help people with learning differences. The result was a set of tools that ultimately help all people. The Hackathon project won the grand prize, and the prototype was built into a product and released earlier this year.
Since the initial release, we've been amazed and humbled by the positive reaction from students, teachers and many others from around the world. We've seen press reviews such as Jordan Shapiro's in Forbes, "Learning Tools For Microsoft OneNote May Be One Of The Most Disruptive Education Technologies Yet," and the Dyslexic Advantage Community named Learning Tools a "Top Dyslexia App of 2016."
More importantly, we've seen the results and impact from people who have been using Learning Tools. We've seen reading speeds dramatically increase, as seen in this video with Special Education teacher Lauren Pittman. We've heard stories of dyslexic students who insist that they only want to read materials using Learning Tools and a teenager with learning differences express a passion and desire to read for the first time in his life. We've seen Learning Tools being used by emerging first-grade readers in Florida, as seen in this video. A teacher in Macedonia uses Learning Tools to teach English to her young students. English Languages Learners (ELLs) have also been using Learning Tools widely. We believe Learning Tools speaks directly to Microsoft's mission of empowering every person on the planet to achieve more.
New Improvements for Learning Tools
In addition to the general availability of Learning Tools for OneNote, we've added a new set of capabilities, including:
Localized user interface — Localization of the Learning Tools toolbar in over 35 languages.
Dictation — Four new dictation languages (Spanish, French, German and Italian).
Color themes — Now includes new yellow, green, blue and pink, which have been specifically designed and tuned based on research.
Switching reader languages — Improved the ease of switching between text-to-speech languages in the immersive reader.
Multiple language support — Ability to read back multiple languages on one page, such as English, Spanish and French on the same page.
Speech controls — Simplification of speech controls and a new menu for all of them.
Easy download — Easy instructions to download more text-to-speech languages. This will depend on your Windows version.
We hope that you enjoy these new improvements for the new school year! You can download the Learning Tools General Availability at www.onenote.com/learningtools, or if you already have it, you will see an update button appear within the add-in (see below). More details can be found in our Getting Started help article. Send any feedback to LearningTools@onenote.uservoice.com, or reach out on Twitter: @OneNoteEDU.
---
Microsoft Stream Preview
July 27, 2016 - Earlier this week, Microsoft announced the free preview of Microsoft Stream, a new business video service that democratizes access to and discovery of video at work. Anyone with a business email address can sign up for the preview in seconds and begin uploading, sharing, and tagging videos in their organization. By taking the "work" out of managing video storage and security, Microsoft Stream enables organizations and their employees to communicate and collaborate with video more easily.

Microsoft had announced new approach to business apps and our ambition to remove barriers, encourage innovation and ultimately empower everyone in an organization with better ways to get work done. Microsoft Stream builds on this vision, enabling business users to harness the power of video to achieve more at work. Microsoft Stream builds upon the learnings and success of Office 365 Video, and over time the two experiences will converge, making Stream the de facto video experience in Office 365. During the preview of Microsoft Stream, there will be no changes to the Office 365 Video experience.

Features and Capabilities - Check out features and capabilities that make video management and sharing within an organization easy, collaborative and social:
Sign up in seconds: Get started with Microsoft Stream in as few as five seconds with easy signup and no credit card requirements.
Easily upload and organize your video: With easy drag and drop capabilities, upload your videos and organize them by either starting a channel or contributing to a channel based on team, group, topic etc.
Discover relevant content: Enhanced content discovery through "trending" videos powered by machine learning, as well as search by hashtag, most liked videos and other key search terms.
Watch anywhere, on any device, anytime: View videos in Microsoft Stream on all your devices from anywhere, anytime.
Secure video management: Manage who views your video content by determining how widely to share within your organization, and to what channels. Secure application access is enabled by Azure Active Directory, a recognized leader in identity management systems, to protect sensitive corporate content.
Follow what matters: Follow channels to see content you want in your Microsoft Stream homepage.
Engage with content: Socialize videos by sharing via email, "Like" your favorites and embed videos to webpages within your organization.
---
New to Office 365 in July — New Intelligent Services Researcher and Editor in Word, Outlook Focused Inbox for Desktop and Zoom in PowerPoint
July 26, 2016 - This month, we are releasing a new set of cloud-powered intelligent services in Office apps designed to save you time and produce better results. These features help you improve your writing in Word, deliver dynamic presentations in PowerPoint and prioritize the emails that matter most to you in Outlook.
Introducing Researcher — Accessing Credible Sources and Cited Content Just Got Easier
Researcher is a new service in Word that helps you find and incorporate reliable sources and content for your paper in fewer steps. Right within your Word document you can explore material related to your topic and add it — and its properly-formatted citation — in one click. Researcher uses the Bing Knowledge Graph to pull in the appropriate content from the web and provide structured, safe and credible information.
We'll continue expanding Researcher's body of reference materials to also include sources like national science and health centers, well-known encyclopedias, history databases and more. We'll also soon bring Researcher to mobile devices so you can start creating a quick outline for that term paper no matter where you are or what device you're using. Researcher is available today for Office 365 subscribers using Word 2016 on Windows desktops.
Introducing Editor — Your New Digital Writing Assistant
While Researcher helps you start a paper, Editor assists you with the finishing touches by providing an advanced proofing and editing service. Leveraging machine learning and natural language processing — mixed with input from our own team of linguists — Editor makes suggestions to help you improve your writing. Initially, it will help you simplify and streamline written communications by flagging unclear phrases or complex words, such as recommending "most" in place of "the majority of."
As a cloud-based service, Editor will get better with time. This fall, it will expand upon Word's current spelling and grammar tools to inform you why words or phrases may not be accurate—teaching at the same time it is correcting. In the same release, Editor will overhaul Word's visual proofing cues so you can distinguish at a glance between edits for spelling (red squiggle), grammar (blue double underline) or writing style (gold dotted line). Stay tuned for these and other updates to Editor.
Focus on What Matters in Outlook with Focused Inbox and @mentions
Two updates to Outlook this month help you work smarter and take control of your email. Customers love using Focused Inbox in Outlook on iOS and Android. Now we're rolling it out to Outlook on Windows, Mac and Outlook on the web. Focused Inbox helps you focus on the emails that matter most to you, as it automatically separates your inbox into two tabs. Emails that matter most to you are in the "Focused" tab, while the rest remain easily accessible—but out of the way in the "Other" tab. As you move email in or out of your Focused Inbox, Outlook's intelligence learns from your behavior to become even more tailored to your priorities going forward.
This release on desktops and web means you now have one, consistent view of the important items in your inbox across all your devices. Read today's Outlook blog for more details on Focused Inbox, including timelines and what to expect if you currently use Clutter.
We're also bringing @mentions to Outlook on Windows and Mac for Office 365 subscribers, making it easy to identify emails that need your attention, as well as flag actions for others. To flag someone, just type the @ symbol in the body of the email and pick the desired person. Their name will automatically be highlighted in the email and their email address automatically added to the To: line. If you are mentioned, the @ symbol will show up in Outlook, and you can filter to quickly find all emails where you are mentioned. Within the emails, your name is highlighted in blue, helping you find where you've been flagged. @mentions are available today for Office Insiders using Outlook 2016 on Windows and Mac. They're already available in Outlook on the web and are coming soon for Outlook for iOS, Android and Windows 10 Mobile. Read more in today's Outlook blog.
The Continued Evolution of PowerPoint — Introducing Zoom
In November, we introduced PowerPoint Designer and Morph, helping anyone create polished slides and captivating motion with just a few clicks. Today, we're excited to introduce Zoom, which lets you easily create interactive, non-linear presentations. Captivate your audience with smooth, effortless navigation in and out of any slide or section, starting from a single interactive summary slide. Present your slides in whatever order makes sense based on your audience, without exiting slide show mode and interrupting the flow. Office Insiders using PowerPoint 2016 on Windows desktops can now incorporate Zoom in three easy ways to build summary slides, depending on the depth of content and your use of sections. For example, a Summary Zoom for a presentation that has dedicated sections, or a Slide Zoom for a deck that has a few slides.
We'll continue building more intelligence into Office apps, as well as expanding the capabilities announced today. Read about additional Office 365 updates this month at: Office 2016 | Office for Mac | Office Mobile for Windows | Office for iPhone and iPad | Office on Android. If you're an Office 365 Home or Personal customer, be sure to sign up for Office Insider to be the first to use the latest and greatest in Office productivity. Commercial customers on both Current Channel and Deferred Channel can also get early access to a fully supported build through First Release. Thanks for your continued feedback and support!
---
Announcing the Public Preview of the New Office 365 Network Online Community
July 15, 2016 - We are pleased to announce the public preview of the new Office 365 Network. Over the last three years, the Office 365 Network has become a vibrant online community for IT pros, technical experts, product enthusiasts ,and Office 365 customers to come together and share best practices related to Office 365.
As more organizations embrace the cloud and move to Office 365, we want to make the wealth of valuable information in the Office 365 Network available to anyone who is looking for it. Currently, the Office 365 Network is hosted as an authenticated Yammer network, which requires registration and sign-in to participate in the community, and makes discussion content searchable and discoverable only by users who are registered and signed in to the network. In an effort to make the community content accessible to anyone, the new Office 365 Network will be hosted on an unauthenticated platform, meaning community posts will appear in internet search results and visitors won't have to sign in to view content in the network.
To learn more, please visit: https://blogs.office.com/2016/07/15/announcing-the-public-preview-of-the-new-office-365-network-online-community/
---
Improvements to Outlook Add-In Store
July 14, 2016 - The latest update to Outlook 2016 will dramatically streamline the discovery and acquisition of add-ins. Today, When clicking the "Store" button in the Outlook ribbon, users are taken to store.office.com and have to enable the add-in in Outlook on the web. After this update, users will see an in-client experience that will allow them to browse and install add-ins without leaving Outlook.
---
BlackBerry will Discontinue the BlackBerry Business Cloud Service in August 2016
July 1, 2016 - After August 2016, legacy BlackBerry devices (those which do not support the Exchange ActiveSync protocol) will cease to work with Office 365.
 
What Do I Need to Do to Prepare for This Change?:  
Users of older BlackBerry devices should consider switching to a mobile device which supports the Exchange ActiveSync protocol before the end of the BlackBerry service date. The overwhelming majority of smartphones running current and not so current versions of iOS, Android and Windows Phone (as well as recently released BlackBerry mobile phones), support the Exchange ActiveSync protocol. For additional information, please visit: http://support.blackberry.com/kb/articleDetail?articleNumber=000038179