Report Suspicious Emails with the Outlook Feature, "Report Message"

Have you received suspicious emails in your inbox? If so, you can easily report spam and phishing attempts through Microsoft's "Report Message" tool within Outlook (desktop or online).
Fast and precise reporting of suspicious emails reduces the possibility of malicious phishing campaigns spreading within an organization. By enabling this feature and encouraging our community to report suspicious emails, UMIT aims to continue to protect the University community against cyber attacks.
Use of this feature notifies both Microsoft and the University's Information Security Office that a suspicious email made it through our security filters. If the message is confirmed to be malicious, Microsoft will add this email to its filters to prevent it from reaching other people, and the UMIT Security team can research and remediate any potential threats.
Not using the Report feature leads to delays in research, remediation, and blocking.
We value your diligence for recognizing, addressing, and reporting suspicious emails.
To learn how to use the "Report Message" tool, please review the instructions below:
For those who read email via the Outlook desktop mail client –
Identify and select the Report Message tab located on the upper right-hand corner of Outlook, as shown in the image below. Then select "Phishing" from the drop-down list. Finally, select "Report" to confirm your selection.

For those who read email online via Outlook on the Web –
Log in to your UM email at: email.miami.edu. Within the suspicious message, click the ellipses (…) and select "Mark as phishing" from the drop-down menu, as shown in the image below. Finally, select "Report" to confirm your selection.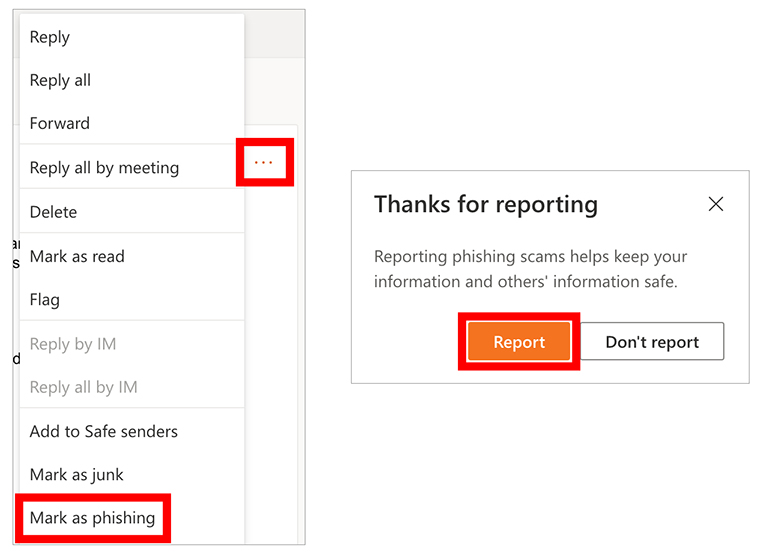 To learn more about phishing attempts and what types of scam emails to look out for, please refer to the following:
For more information, please feel free to contact the Information Security Office (ISO) at: ciso@miami.edu.
Thank you.