Important:
Google Drive is a legacy, cloud storage solution. The recommended cloud storage and collaboration solutions for the University of Miami community are Box and OneDrive.
Google Drive Updates
Google Drive gives you the ability to collaborate with colleagues in real-time anywhere with an internet connection.
---
Google Drive Trash Items Will Be Automatically Deleted After 30 Days Starting on October 13, 2020
September 15, 2020 - Starting October 13, 2020, Google is changing the retention policies for items in the Trash in Google Drive. With this new policy, any file that is put into a Google Drive trash will be automatically deleted after 30 days. Previously, trashed items would be retained indefinitely until the trash was emptied by the user.

Any files already in a user's trash on October 13, 2020 will remain there for 30 days. After the 30-day period, files that have been in the trash for longer than 30 days will begin to be automatically deleted.

As this policy takes effect, Google will show a banner to users with details of the change. The policy change will take effect regardless of whether a user sees or acknowledges the banner. Google will be showing in-app notifications in Drive starting today and in their Editors products (e.g., Google Docs and Google Forms) starting September 29.
Learn more:
---
Upgrade to Google's New File Storage Application: Drive File Stream!
Important: The following change only applies to Google Drive's desktop application for Mac and PC. This change does

not

affect Google Drive's online version. Your files will continue to be accessible at google.miami.edu.
Please be advised that Google decommissioned Google Drive's desktop application for Mac and PC on Saturday, May 12, 2018. If you currently use Google Drive's desktop application with your University of Miami email account, you are encouraged to upgrade to one of the following available services:
Drive File Stream (recommended): This application lets you stream My Drive and Team Drive files directly from the cloud. Benefits of Drive File Stream include:

Quickly see all your Google Drive files in Finder/Explorer (including Team Drives).
Browse and organize Google Drive files without downloading all of them to your computer.
Choose which files or folders you'd like to make available offline.
Open files in common apps, like Microsoft Office and Adobe Photoshop.



Backup and Sync (formerly the "Drive for..." client): This application will store all your Drive content locally. This is a 2-way sync, so changes you make online are reflected on all your devices, and vice-versa.
To install Drive File Stream or Backup and Sync, please visit https://google.com/drive/download.
Thank you.
---
What Can You Do with Team Drives?
Google Team Drives are shared spaces where teams can easily store, search, and access their files anywhere, from any device.
Unlike files in My Drive, files in Team Drive belong to the team instead of an individual. Even if members leave, the files stay exactly where they are so your team can continue to share information and get work done.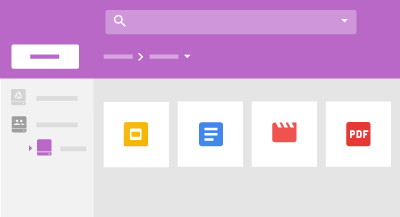 Get Started with Team Drives