Archive: January/February 2018
New and Improved Features for Office 365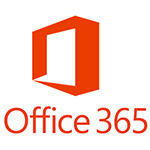 Learn more about Microsoft Office 365 features that are being added this year, and get links to additional content to help you take advantage of these improvements and additions.
---
Updates: January-February 2018
---
We're Making It Easier to Share and Join Private Teams in Microsoft Teams
February 24, 2018 - Until now, it was not possible for users to find and request access to a private team in the Teams app. Users had to either be invited to a team or search for the underlying group in Outlook in the Outlook app.
Now, private teams will be discoverable via search and the Suggested teams gallery, making it easier to share and discover private teams across an organization. If a user requests to join a private team, the team owner will receive a notification and can approve or deny the request directly in Teams.
What do I need to do to prepare for this change?
We recommend that you inform team owners about this change. If team names or descriptions include sensitive information, team owners may want to update them before this change occurs on March 23, 2018.
---
New Ways to Govern Access of External Users are Coming to Office 365
February 24, 2018 - Starting March 23, 2018, we're giving you new ways to govern access of external users. As part of this update, external users will no longer be able to see content that has been "Shared with Everyone," "All Authenticated Users," or "All Forms Users," even if they have been invited or added to authorized groups.
How does this affect me?
In SharePoint Online and OneDrive for Business, sharing resources (files, folders, sites, etc.) with external users is accomplished by sending an invitation to the users directly, or adding them to groups and granting appropriate access levels. As a result, an external user would only see the content that has been shared with the user or with groups to which the user belongs. After March 23, 2018, external users will no longer see content that has been shared with "Everyone," "All Authenticated Users," or "All Forms Users." Only a small number of tenancies use this permissions model to grant access to their specific external invited guests. Content that has been permissioned to these groups will, by default, be visible only to your users within your organization's tenancy.
Please click additional information to learn more.
---
New Feature: See Microsoft Planner Tasks in iCalendar
February 10, 2018 - The new feature allows you to publish your "My tasks" or all tasks from individual plans to an iCalendar URL. Using the iCalendar URL, you can view your Microsoft Planner tasks in Outlook or other calendar applications compatible with iCalendar. This feature is on by default, so you do not need to do anything to activate it.
Please click additional information to learn more.
---
New Groups Features Coming in the Outlook Mobile App; Outlook Groups App will be Retired
February 9, 2018 - We're pleased to announce that we're focusing our efforts on expanding Groups functionality in the Outlook mobile app.
Because of this new focus, we've decided to retire the standalone Outlook Groups app later this year. You can keep using it until May 1, 2018, but you can already find and collaborate with all your groups inside the Outlook mobile app. See "use groups in the Outlook mobile app" to get started.
All of your existing group memberships and functionality will continue to work in Outlook on the web, Outlook 2016, Outlook 2016 for Mac, and any other Office application.
Groups is an important part of making teamwork effortless inside Outlook and Office. These changes are part of both our continued efforts to refine Microsoft 365 as the universal toolkit for teamwork and the investments we're making in Microsoft Teams and Yammer.
Please click additional information to learn more.
---
New Feature: OneDrive for Business File Hover Card
January 24, 2018 - OneDrive for Business File Hover Card is a new Office 365 feature. With File Hover Card, as soon as you hover your mouse over a file you will be able to see file details such as access stats like number of views, who viewed, and who modified. Owners of files stored in OneDrive for Business will also be able to view this information.
How does this affect me?
The File Hover Card quickly displays file access statistics that help you gain valuable insights into who in your organization has accessed Office files that you've shared. In OneDrive for Business, when hovering over a file you'll be able to see total views, the number of colleagues who've viewed, and the list of colleagues who've viewed. In SharePoint Online document and page libraries, you'll be able to see the number of views and number of colleagues who've viewed files and pages.
Another aspect of this feature allows file owners the ability to see if their colleagues have viewed their files. This feature is only available when files are stored in OneDrive for Business. This setting is on-by-default.
OneDrive for Business File Hover Card will be rolling out to Targeted Release organizations in the coming weeks, and we anticipate completion of the rollout to Standard Release organizations in late-February.
Please click additional information to learn more.
---
Encryption Feature Within Office 365 Updated
January 24, 2018 - Please be advise that the feature to encrypt and/or read encrypted (protected) emails within Office 365 has been updated.
In the Outlook Web App (email.miami.edu) new message window, you now have the Protect button enabled:

In the Outlook desktop client, you may now select the Options tab and then Permission: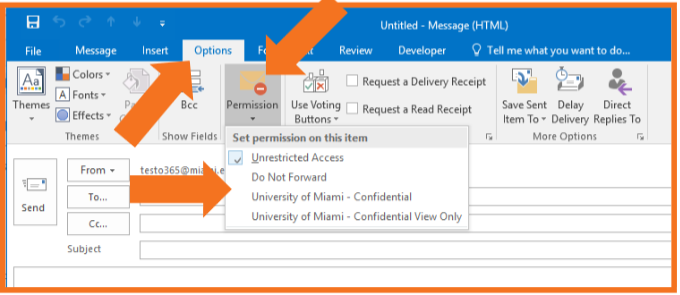 For more information, the new process to protect and read protected messages is noted in the updated Office 365 Send/Recieve documentation in UMIT's Email Privacy service page.
---
Redesigned Navigation, Conversations, and Search in Outlook for iOS and Android
January 12, 2018 - We're launching exciting new changes to Outlook on iOS and Android. It's the Outlook you know and love, with a redesigned conversation experience and the ability to quickly switch between accounts and browse folders. In addition, new intelligent search capabilities, powered by Microsoft Graph, are coming soon.
People leverage Outlook every day to stay on top of what's important—whether they need to read and reply to a crucial conversation, navigate through their folders, or find a critical email. We're humbled and driven by the stories and feedback we hear from people using the apps. These insights from across the globe, different industries and people from all walks of life drive us every day to make Outlook effortless for all these needs—so it's even easier for you to communicate, collaborate, and manage your time while on the go.
Navigation — Quickly Switch Between Accounts and Folders
Outlook works with all your accounts — from Office 365 to Outlook.com and Gmail. We've heard from many people that they wanted a quicker way to switch between accounts or browse folders.
As a result of your feedback, you will find the following updates that make navigating in Outlook effortless:
The account and folder menu has been beautifully redesigned to give you super-fast access to all your accounts, as well as key folders such as Inbox, Drafts, and Groups.

Pro tip—Press and hold on account avatar to pin the sidebar open!

Help and Settings buttons are easy to get to in the sidebar, making it even quicker to get in-app product support or give us feedback. While we hope you don't ever need to contact our support team, we know we're not perfect, and there are times you could use a helping hand. They're always available and ready to help, all within the app!
Outlook for iOS.
Outlook for Android.
Conversations — Email that's Fast and Interactive
The redesigned conversation experience makes it easy to stay on top of discussions, whether you're talking to friends and family, classmates, colleagues, or with your groups.
Here's a look at some of our recent updates on Outlook for iOS that make catching up on what's happening in email more effortless (coming to Outlook for Android at a future date):
Outlook shows more of your conversation at once and provides clearer separation between individual messages, making it simpler to catch up on your conversations.
When you tap on a conversation to read it, Outlook automatically opens to show the first unread message. You can pick up right where you left off without scrolling.
You can also quickly reply to everyone by simply tapping the quick reply box and starting to type. When you're done, just tap the send button to see your message added to the conversation. This means that you are able to see the rest of the conversation while you type your reply.
If you want to do more with a conversation than just quickly reply, simply tap the recipients list to edit, or the ellipsis to get to the additional actions, like Forward.
A More Intelligent Search, Front and Center
All too often, finding the information you need quickly can be a painful task. The new intelligent search, available in Outlook for iOS and coming soon to Android, will help make it easier to find an item while on the go.
Changes will include:
Search will be front and center in the app's simplified tab bar. No matter where you are, the new search will be a tap away. Our goal is to bring more proactive and contextual information to your fingertips without even needing to type in a search box.
People and Files will be seamlessly integrated as part of the search experience. There's a section for People and Files—both with proactive suggestions.
When typing a name in the search box, it will instantly display suggestions from your most frequent contacts. Tapping on a person provides one-tap access to the new People card.
The new intelligent search is powered by the Microsoft Graph and lights up immediately with the content from your top contacts, upcoming travel itineraries, package deliveries, recent attachments, and more.
Finding what you need while on the go will be effortless.
What's Next?
The new account navigation is available in both Outlook for iOS and Android. We're working hard right now to bring new search experiences and modern conversation capabilities to Outlook for Android in the near future.
We're always excited to see and hear your feedback. The new designs will allow you to effortlessly engage in conversations, navigate smoothly, and find what you need on the go.
Please send your ideas and feedback on our UserVoice site for Android and iOS.