Skype for Business
Connect with coworkers and business partners at UM, or anyone around the world!
---
Skype for Business lets you collaborate with anyone, anywhere, on any device. Work like all participants are in one room, even when they are not. Easily start conversations with instant message (IM), voice or video calls; see when your contacts are available online, in a meeting, or presenting; and share your screen during meetings.
---
Get started:
Learn how to download Skype for Business!
---
At a glance:
Skype for Business is a platform that integrates common channels of business communication, including: instant messaging (IM), voice and video calling, file transfer, web conferencing, voicemail, and email.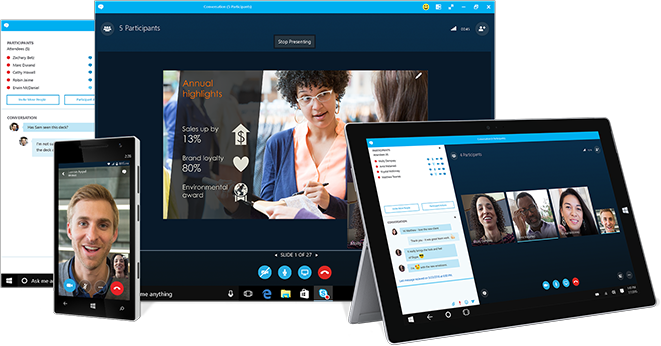 ---
Who can use it?:
Skype for Business is available to all UM faculty, staff, and students.
---
Benefits:
Skype Across Devices: Connect with anyone, anywhere, on any device. Meet with up to 250 people – even if they're not on Skype for Business. All they need is a phone or Internet connect.
Meeting Tools and Support: Collaborate across the organization with tools like video conferencing, desktop sharing, and file-sharing.
Security: Conversations are protected by strong authentication and encryption measures.
Virtual Meeting Space: Save time and money by not having to travel to meetings or reserve dedicated meeting rooms.
---
What about Microsoft Lync?
Microsoft acquired Skype in 2011 and changed Lync's name to Skype for Business in 2015. Changes from Lync to Skype include a new client interface and updates to the service in Office 365.
---
Training:
Learn how to use Skype for Business via Microsoft's website:
---
Have questions? Get answers:
For more information, please review Skype for Business' FAQs.
---
Who to contact:
If you have any questions, please contact the UMIT Service Desk at: (305) 284-6565 or help@miami.edu.