Description
Microsoft Power BI is a cloud-based business analytics service that enables anyone to visualize and analyze data with greater speed, efficiency, and understanding. It connects users to a broad range of data through easy-to-use dashboards, interactive reports, and compelling visualizations that bring data to life. You can access your data and reports from anywhere using the Power BI mobile apps, which update automatically with any changes to your data.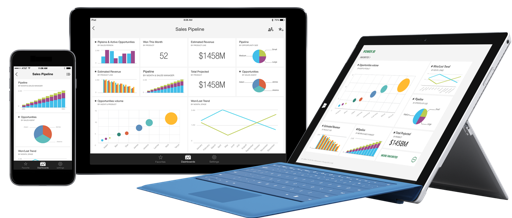 Featured FAQs
Why should I use Power BI?

Power BI is a suite of business analytics tools to analyze data and share insights. It provides you the ability to create dashboards with the most important metrics all in one place, updated in real time, and available on all of devices.
Think of Power BI Desktop as a feature-rich data mashup and report authoring tool where you can unify all of your organization's data. If you already have reporting portals or applications, embed Power BI reports and dashboards for a unified experience.
You can combine data from disparate databases, files, and web services with visual tools that help you understand and fix data quality and formatting issues automatically. Using the Power BI gateways, you can connect SQL Server databases, Analysis Services models, and many other data sources to your same dashboards in Power BI.
Create stunning reports that communicate your message effectively. Once created on the desktop, the Power BI service allows you to publish reports securely to your organization and setup automatic data refresh so everyone has the latest information.

How does Power BI work?

Power BI customers (students) can connect to all data sources through all connectivity options, publish to the Web, and export to PowerPoint, Excel, CSV. "Free" users cannot publish content to app workspaces, share dashboards, or subscribe to dashboards and reports.
Power BI Pro customers (faculty and staff) have access to all the content and capabilities in the Power BI service, including the ability to share content and collaborate with other Pro users. Only Pro users can publish to and consume content from app workspaces, share dashboards, and subscribe to dashboards and reports.

Is there a limit to the use of Power BI?

Power BI's export data feature is limited to 30,000 records, and Power BI will not accept files larger than 1 GB.
In the current version of Power BI, you are only able to schedule data refresh three (3) months into the future.
Power BI is limited to 200 reports in a workspace, and data modeling in PowerBI Desktop is limited to 4096 MB.

Is there a usage scenario for Power BI?

A department such as Human Resources can create intuitive dashboards to track rate of change for incoming new hires from year-to-year as well as include such metrics as region, gender, and age groups from their active employees. 

Features and Benefits
Power BI puts business intelligence creation into the hands of analysts who can extract, create, and transform the data in an intuitive way and publish the resulting reports and dashboards.
The Power BI dashboard visualizations are best in class and continually updated from the community.
Interactive geo-map visualizations are empowered by Bing Maps.
The underlying Power BI technology is an in-memory analytics engine and columnar database that supports tabular data store structures used by Power Pivot.
Restrictions
Students: Power BI for all students provisioned under Microsoft 365.
Faculty/Staff: Power BI Pro for all faculty and staff provisioned under Microsoft 365.
There is no cost to use the free license version of Power BI.